Are you wondering how to make money with your Facebook place page? Let me tell you a simple rule: "Give attention to what you want to grow!" This certainly goes for your local customers on Facebook. ~ So, read this article to discover 5 tips to generate more customers on Facebook without selling them anything! This is specially written for local businesses.

JD Rucker wrote a very insightful article on Socialmediatoday "Why Local Businesses Should Stop Focusing On Their Facebook Page".
The main point IMO, and I quote:
"The advantage that small businesses have over big businesses is the personal attention to customers that gives them the opportunity to dramatically amplify their brand messaging. All they have to do is ask."
Well, that sounds easy, doesn't it? I'm sure you've experienced, that it's not easy at all! Just visit a couple of local businesses on Facebook to discover there is not much activity on these pages!
So, does it mean Local Businesses have no business being on Facebook? Absolutely not! It means you have to try harder and pay attention to your clientele. Stop pushing those boring updates and use your creativity. Better yet, listen to people who know what they are doing. To get you started, here are 5 tips. Use them and give your local customers the attention they deserve!
#1 Transform Your Facebook Cover Photo into a Wall of Fame
Facebook Cover Photos offer a great piece of virtual real-estate to reward your local customers. Transform your Cover Photo into a Wall of Fame. Not to show off your business, but to put the spotlight on your customers. Invite your customers to share their photos while visiting your local place. Upload them to your Cover Photo Album.
Change the Cover photo every week or month. Think about how you can reward 52 of your local customers and build a relationship for life. Imagine how these 52 Facebook users will share it with their friends. With an average of 135 friends, this equals a reach of 14,080 eyeballs!
#2 Let Other People talk about Your Local Business
Invite your customers to share their experience on your Facebook Timeline. If you are a Pizza restaurant, why not ask customers to share their favorite pizza topping on your wall. Everybody has a smart phone or iPhone to take a picture and post it on your Timeline with a snap. You could even use the Time stamp of this post to share it on Twitter with a reply. Add a #hashtag and generate even more conversation about your local Pizza restaurant.
#3 Encourage Recommendations from Locals
Recommendations on Page Places can generate a lot of word of mouth promotion. Now, recommendations should come natural. Meaning you can't push people into recommending you. However, a little encouragement to act, will increase the number of page visitors to leave a recommendation.
You can reward your customers for their positive word of mouth and generate more recommendations organically. What if you would offer every tenth promoter a special treatment, next time they visit your place? Think that will encourage them? I'm sure it will!
#4 Woo your Facebook fans with Coupons
Woobox offers some great Apps to enhance the experience of visitors on your Facebook place page. With Woobox Vouchers you can create fan-only Coupons. This App offers some cool features to boost word of mouth promotion of your special offers. Some offers require that your fans share it with their Twitter followers before they get a coupon. A great virality feature for local businesses!
#5 Learn techie tips from Mari Smith
I'm sure you've heard many times: "the money is in the list". Let me tell you something else: the money is on your Facebook Place Page as well.
If you want to discover 10 magic techie settings for releasing the money from your Facebook Place Page, here's your chance! Mari Smith will host a brand new FREE Webinar on May 15th Noon (PT), 3 PM (EST). Subscribe today and learn how to generate more activity on your place page.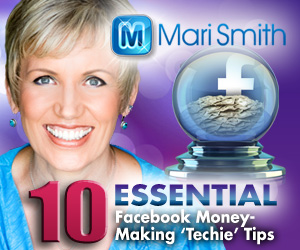 Take Away:
marketing is not only an art form it's also a craft that not everybody understands. To have success on Facebook, certainly if you are a local business, you need to know what you're doing and use your imagination. Start by paying super attention to your local customers and watch how word of mouth will get you more business.
What are your thoughts on this? If you have examples of successful place pages on Facebook, please share them with us! 🙂